Joined

Nov 11, 2007
Runs

15,551
And it's set to cost $300m+
Partly funded through private donations and partly funded through the government.
What a waste of money.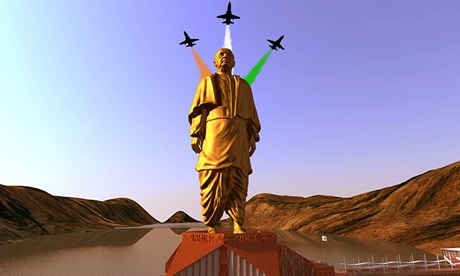 Statue of Unity planned in Gujarat, India, will be world's tallest

BJP's Narendra Modi launches project to build statue of India's first home minister, Sardar Vallabhbhai Patel





A grandiose project to build the world's tallest statue was launched amid intense political controversy in India on Thursday by the Hindu nationalist leader who is the leading opposition candidate for prime minister in next year's general elections.

The 182 metre high statue of Sardar Vallabhbhai Patel, who was India's first home minister after independence from Britain, is to be built in Gujarat on a river island close to India's largest irrigation dam, which is also named after Patel. Narendra Modi, leader of the Hindu nationalist Bharatiya Janata party (BJP) and the state's chief minister, set up a trust to fund the £200m estimated cost of its construction.

The statue – to be called the Statue of Unity – will be made of reinforced concrete on a steel frame, and then clad with "rich bronze". Super-fast elevators will take visitors to the observation deck inside the statue's head with a panoramic view of the surrounding countryside, including the dam with its huge reservoir, and dozens of poor villages. Below the statue will be a three-storey visitors' centre housing a museum, an aquarium, and other tourist attractions. The trust funding the project says it will be finished in four years. "The world will be forced to look at India when this statue stands tall," Modi said.

The statue is a pet project of Modi, who has often spoken of how it will be "double the height of the Statue of Liberty". But the statue in Gujarat will not be dedicated to a political idea, but to a political leader who played an important role in India's struggle for independence.

Gujarat-born Patel – hailed as the "Iron Man of India" for successfully integrating over 550 princely states into the Indian union – was a prominent leader of the ruling Congress party, now a rival to Modi's BJP, but is an attractive historical figure for Hindu nationalists. This is especially so as he is popularly perceived to have been a rival of India's first prime minister, Jawaharlal Nehru, who spawned the Congress party's Nehru-Gandhi political dynasty.

Modi's main rival in the election is Congress's Rahul Gandhi, Nehru's great-grandson.

"The Hindu nationalists have no icons of their own in the freedom struggle, so they're trying to appropriate somebody else's," said Aditya Mukherjee, professor at the centre for historical studies, Jawaharlal Nehru University, in Delhi. "Moreover, Modi is trying to take on the mantle of the 'Iron Man', hoping to appeal to a section of Indian voters who believe an authoritarian leader will resolve the country's problems."

The Congress party has so far failed to support the project to honour one of its leaders and no minister from Delhi agreed to attend its launch on Thursday.
http://www.theguardian.com/world/20...ity-modi-india-gujarat-will-be-worlds-tallest