Joined

Jan 29, 2005
Runs

12,742
Hailing from Yorkshire, 22-year-old pace bowler Safyaan Sharif has played nine ODIs and seven T20Is for Scotland, with his best performance coming on debut against the Netherlands in 2011 when he took 4/27 from 8 overs. More recently, he was part of the Scotland side that won the ICC World Cup Qualifiers and as a result qualified for the 2015 World Cup in Australia and New Zealand. Safyaan played a crucial role in the tournament, taking seven wickets in three matches including 3-41 in the Final against the UAE.

Scotland go into the 2015 World Cup as heavy underdogs but in an exclusive interview with PakPassion.net, Safyaan Sharif spoke about the experience of winning the qualifying event and his and the team's targets for the tournament in 2015, how he was introduced to the game of cricket and the importance of continued funding from the ICC for the Associate nations.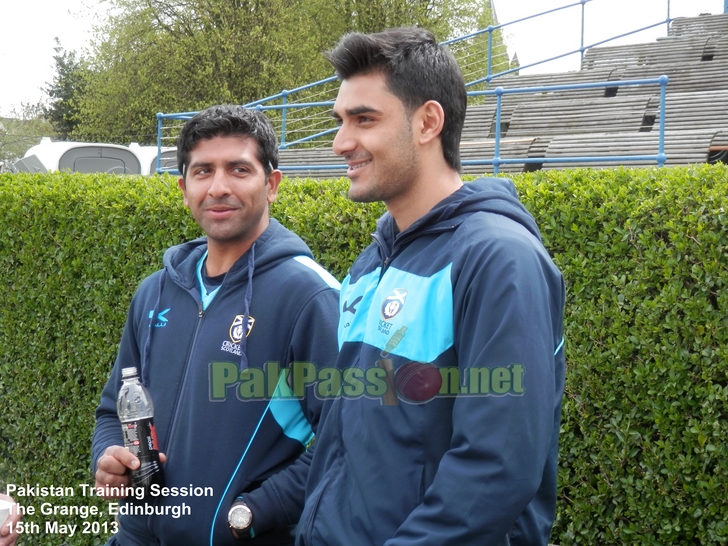 PakPassion.net:

Tell us a bit about your background and why you chose cricket over other sports?

Safyaan Sharif:

I got my love of cricket from my dad. He used to play cricket at a very young age and he was really good. When I was a kid we used to play in the house, but obviously at that stage I was just playing cricket for enjoyment. I then bowled against my dad in a proper match and he spotted some talent in me and I took it from there.

I started playing when I was 11 years old at Dunnikier Cricket Club which was my local club. My dad used to play there also, and I began by playing at the junior level. From there I went on to Kismet Cricket Club before joining the junior side for Largo at Under 15s, Under 17s and Under 19s – That is where I played all my cricket. I also then played for the Largo senior side. I got a lot of help from Kismet and Largo, and Largo pushed me to district trials where I got noticed and picked for the Scotland side.

I also used to play football and was actually quite good at it, but I chose cricket because I enjoyed it more!

PakPassion.net:

Apart from cricket what else do you do in your free time?

Safyaan Sharif:

To be honest, nothing much really. I am more of a family boy so I enjoy chilling with my family. It's either cricket or family for me.

PakPassion.net:

Who are your favourite cricketers and who do you look up to?

Safyaan Sharif:

I look up to Dhoni as a batsman and as far as fast bowlers go my favourite has to be Dale Steyn. From past cricketers who have retired, I look up to Wasim Akram. He is just one of those great legendary bowlers.

PakPassion.net:

At the moment the ICC is pumping quite a lot of money into Associate countries – in your opinion is that money making a noticeable difference? If the money is taken away will it have an effect?

Safyaan Sharif:

Yes, definitely. I think it is making a big difference because there is a lot more cricket now. Before, there was not that much cricket in Scotland so it has definitely made a big difference. The standard of cricket has definitely improved amongst other associate countries such as Ireland and Afghanistan.

I think if the money is taken away then it would have quite a big impact because I think the amount of cricket being played in Scotland will fall, so that will affect the standard of cricket in the country. However, of course I can't say for certain because you never know what would actually happen.

PakPassion.net:

You were in New Zealand playing the World Cup qualifiers – how was that experience for you and what was the morale like in the team?

Safyaan Sharif:

It was the best moment of my life, definitely the highlight of my cricketing career so far. It was my first time playing in a 50 Over World Cup Qualifying competition, and then to actually win the tournament and get through – it was just an amazing feeling.

We had a meeting before the competition and in that meeting we discussed how we just wanted to give every team a statement and show them who we are and that we are better than them. After that, everyone just kicked on from there.

My highlight of the competition has to be the game against Namibia where the game was postponed to the next day. Their batsmen looked solid at the crease and had an 80 odd run partnership, however I then came on and picked up a few quick early wickets and turned things around. I ended up with four wickets against Namibia and then also got three wickets in the final of the tournament against UAE.

PakPassion.net:

It's been a couple of weeks since you qualified. Have you had a chance to sit down and discuss any targets for next year's World Cup yet?

Safyaan Sharif:

No not yet. We have had two weeks off after the qualifiers, so I think in another two weeks' time we will have a team meeting to see what's happening and take it from there.

PakPassion.net:

In terms of personal objectives, what goals have you set for next year's competition in Australia and New Zealand?

Safyaan Sharif:

Obviously, I will want the team to perform well and I want to do well also. Hopefully we can beat a couple of the big teams to show them that "yes – Scotland are here". Something like what Ireland did in the 2007 World Cup.

I haven't played in Australia before – next year will be the first time. I am just looking forward to bowling fast on those pitches, so hopefully they don't disappoint me. Hopefully I get a chance to play which would be really good in itself.

PakPassion.net:

In the group stages you will be facing England, Australia, Sri Lanka, New Zealand, Bangladesh and Afghanistan. Are there any players in particular in those teams who you are looking forward to facing?

Safyaan Sharif:

Yes, quite a few actually! I still want to get my revenge on Mahela Jayawardena! He played really well against me when I faced him two years ago so I am really looking forward to bowling against him.

England, Australia and New Zealand have been doing really well lately so it is going to be a really tough challenge for the guys. However, I have no doubt that if we play in the World Cup like we did in the ICC qualification round, we will do some damage.

PakPassion.net:

You are not going to play Pakistan in the group stages next year, and you were injured last year when Pakistan visited Scotland as well – do you have any regrets about that?

Safyaan Sharif:

Yes obviously, I have always wanted to play against my home country. It's just a shame that I got injured at the wrong time. However, I am stronger again now so InshAllah if I get the chance I would love to play against them. InshAllah next year if we get through the group stages I will get an opportunity to face them in the second round of the competition.

PakPassion.net:

Where do you see cricket in Scotland in five years' time?

Safyaan Sharif:

I think it is definitely improving and there are a lot more youngsters coming through as well. You can see that the Scotland team is doing well, and then the Under 19s are doing really well also in the Junior World Cup. There has been a big improvement in recent years, so I am hoping in the next five years we will continue to see a big difference.

PakPassion.net: From an administrative point of view, what do you think can be done to make cricket more appealing in Scotland?

Safyaan Sharif:

I would say cricket perhaps needs to be advertised a bit more - we don't get advertised enough at the moment. You have people living in Edinburgh and they won't even know that there is an ODI game going on in the same city. It would make a lot of difference if cricket in Scotland could get advertised and promoted more.

PakPassion.net:

Within the Scottish team, who do you look up to and go to for advice?

Safyaan Sharif:

If I ever need advice I would go and talk to one of the senior players who have been around for a while. Of course then there is also ex-club cricketer Majid Haq. I used to play at the same club as him and he has a lot of experience of playing in international competitions and World Cups, so I just go to him and ask what I should and shouldn't do.

PakPassion.net:

Safyaan, thanks a lot for your time, we really appreciate it and all the best in the future!

Safyaan Sharif:

Thank you very much!