Born in Colombo, Davenell (Dav) Whatmore represented Australia as a middle-order batsman in seven Test matches and a solitary ODI, making a top score of 77 against India in New Delhi. He was more successful at First-Class level, scoring over 6000 runs for Victoria in 108 matches at an average of almost 34. He retired from professional cricket in 1989 to pursue a career in coaching.

During his distinguished career as a coach, Whatmore coached Sri Lanka on two separate occasions, with his most memorable association with the Lankans coming during their incredible World Cup win in 1996. In addition, he won the County Championship with Lancashire in 1998 and 1999, as well as the Natwest Trophy in 1998. In 2003, he took on the challenge of coaching Bangladesh and was in charge when they won their first ever series by defeating Zimbabwe. He also oversaw the ODI victories over Australia, South Africa and the famous win over India in the 2007 World Cup. Between 2009 and 2012, Whatmore was also coach of the Kolkata Knight Riders in the Indian Premier League.

In March 2012, the Pakistan Cricket Board appointed Whatmore as Head Coach of the Pakistan side, replacing interim coach Mohsin Khan. Whatmore's tenure in this position saw Pakistan winning the Asia Cup and they were also successful in ODI series wins away from home versus India and South Africa. Failure to win the Champions Trophy in England as well as disappointing performances in the Test match series against South Africa were low points of his tenure, but he departed with his head held high after a sensational series-leveling Test win against Sri Lanka in Sharjah where Pakistan chased down over 300 on the final day.

In an exclusive interview with PakPassion.net, Whatmore discussed the highs and lows of his tenure as Pakistan coach, his relationship with Misbah-Ul-Haq, Mohammad Irfan's injury problems and his observations about standard of domestic cricket in Pakistan.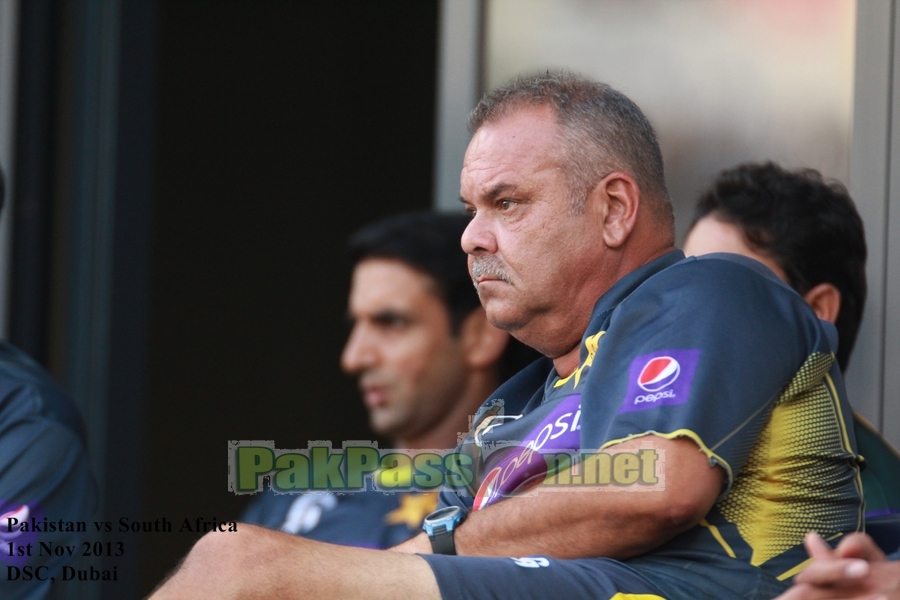 PakPassion.net

: How would you rate your tenure as Pakistan head coach out of 10? What could have gone better and what were you happy with?

Dav Whatmore

: I don't think it is my position to rate myself. I have walked away knowing I have given 100% as Pakistan's Head Coach. A few more wins under the belt, particularly in the Champions Trophy last year would have been nice though.

I was also particularly proud of how the Pakistani players responded and reacted to the international pressures, as it seems they carry their country's image on their shoulders. They are cricketers and simply want to play cricket to the best of their ability. A lot of people do not realise the pressure they are under on an international scale from all sides. We sometimes have to stop and remember they too are human beings.

PakPassion.net

: What would you change in hindsight about your spell as head coach?

Dav Whatmore

: It would be to positively change some old ways of thinking and I am not referring to players when I say that.

PakPassion.net

: Which players do you feel really improved under your tenure as coach and why do you think they improved?

Dav Whatmore

: I have never individualised, instead would prefer to see the team as a whole improve. During my two years, there have been some new players who came in and have settled comfortably into international cricket in a very short period of time. This has allowed them to perform early in their careers.

PakPassion.net

: How was it working with Misbah-ul-Haq? What do you feel are his strengths and weaknesses?

Dav Whatmore

: I really enjoyed working with Misbah. I have studied closely his approach both in leadership and as a player. It is not often you come across a quality individual who lives and breathes loyalty to his country and team mates.

His individual contribution in my time, has been outstanding in both Tests and One Day Internationals despite the continuing unwarranted and unfair criticism that he gets from both media and public.

PakPassion.net

: Can you shed some light on the stories that you walked out of a selection meeting. What actually happened?

Dav Whatmore

: All I will say at this moment in time is that it was not a pleasant meeting… but that is a story best kept for the autobiography!

PakPassion.net

: What was the best/worst moment of your tenure as Head Coach of Pakistan?

Dav Whatmore

: The heavy loss in the Champions Trophy in England and the second Test match in Zimbabwe still leaves a nasty taste in my mouth.

Performances in South Africa were also not that good. However they are always a decent and strong opposition in their home conditions.

On the other hand beating South Africa in South Africa in the One Day International series was a historical victory. Winning the Asia Cup, the one day international series win in the West Indies… and who can forget the last Test match against Sri Lanka? That win will remain in my memory bank for many years to come!

PakPassion.net

: Some critics say that you were too lenient when it came to the discipline of senior players. How would you respond to that criticism

?

Dav Whatmore

: I am unaware of any indiscipline with regard to senior players during my tenure. My style of management is to treat them as the grown men that they are.

Having said that, there were occasions which warranted my wrath in the privacy of our dressing room after certain losses.

I am well aware that many feel that I should have adopted the head master approach, but my philosophy has been a proven success over many years in the sub-continent.

PakPassion.net

: What was the most frustrating aspect of being Head Coach of the Pakistan cricket team?

Dav Whatmore

: I have noticed that there appears to be very little nationalism towards the national team. I always felt Karachi, Lahore and other cities were more interested in promoting players from their respective city to the detriment of a unified Pakistan Cricket Team.

PakPassion.net

: Why is it that Pakistan is failing to produce world class batsmen and what can be done about this?

Dav Whatmore

: I believe there is no lack of world class batsmen in Pakistan, but I always felt that players could rarely relax in terms of feeling secure in relation to selection. Therefore it is very difficult to consistently perform with this in the back of your mind.

Also, more encouragement and support from the right people would go a long way in solving this.

PakPassion.net

: Do you feel that as a "foreigner" you were on a hiding to nothing as Pakistan coach, particularly due to the biased opinions of some former players?

Dav Whatmore

: The short answer is no at the beginning, but it didn't take long for the answer to be yes.

It was apparent to me and many others that there are certain lobbies who are anti-foreign coaches and wish to advance their own local people at my expense. Although it is not meant to be personal, I found this to be particularly nasty but understand that's the way it works in Pakistan.

PakPassion.net

: If you had been given a free reign and allowed to change three things about Pakistan cricket in order to improve it, what would they have been?

Dav Whatmore

: Only 3?! In the subcontinent it takes generations to change cultural divides and mindsets.

PakPassion.net

: What are your thoughts on the standard of Pakistan domestic cricket and what can be done to improve it's quality?

Dav Whatmore

: It is beneficial to have the domestic setup as strong as possible. I found Department cricket far stronger than Regional cricket, but regions are ultimately responsible for the development of players across the country.

There has to be a happy medium to integrate both setups for the benefit of domestic cricket in the country.

PakPassion.net

: Do you think that there is too much interference from those "outside" in terms of selection, coaching and trying to influence decision making in Pakistan cricket?

Dav Whatmore

: You probably already know the answer to this question! There are obvious challenges in advancing a group of players to improve.

PakPassion.net

: What is the typical psyche of the Pakistani cricketer? Where can improvements be made?

Dav Whatmore

: Their psyche is "look after yourself because Nobody Else Will"! The Pakistani players need more support and less criticism.

PakPassion.net

: There seems to be a lack of leaders amongst the current group of players. Did you spot any potential captains of the future?

Dav Whatmore

: I think there are good leaders in the current group of players, but future leadership is in the hands of the selectors.

PakPassion.net

: Mohammad Irfan's injury problems continue. What should the selectors/captains/coaches do regarding his selection. In your opinion should he play in all formats or only some?

Dav Whatmore

: Firstly, Irfan is a major asset to Pakistan Cricket and needs to be managed accordingly. I think he should be able to play all three formats but not on a continual basis.

PakPassion.net

: Your thoughts on the appointment of Moin Khan as the Head Coach?

Dav Whatmore

: Well he is the one that has been appointed and I wish him well.
Last edited by a moderator: