Joined

May 31, 2009
Runs

2,861
I am desperately waiting to get my hands on the PC:Version, I have already made bookings for it even though it will be released on November 9th, 2010. I had to face disappointment when I learned that Final Fantasy XIV is already sold out before its release date (30th September). Well, COD Black Ops is set during the Cold War era, some locations include *Vietnam, Cuba, the Arctic, Laos and Russia.
Enemy includes:
* North Vietnamese Army
* Viet Cong
* Russian Forces
Trivia:
*Reznov - Returning from Call of Duty: World at War and a member of SOG.
*Treyarch will employ a motion capture technology similar to the one used in James Cameron's Avatar film, which captures the whole performance of the actor, as well as allowing accurate facial expressions.
*Call of Duty: Black Ops is the first game that Treyarch has ever devoted their entire staff to with no other games in development.
*Studio head Mark Lamia said there is a huge difference between the Vietcong soldiers who charge the player in a near-suicidal fashion and the Russians who are much more stealthy and will hide behind objects.
*The player will get to pilot a Hind helicopter and guide friendly troops from an SR-71 Blackbird reconnaissance aircraft.
Some Screen shots: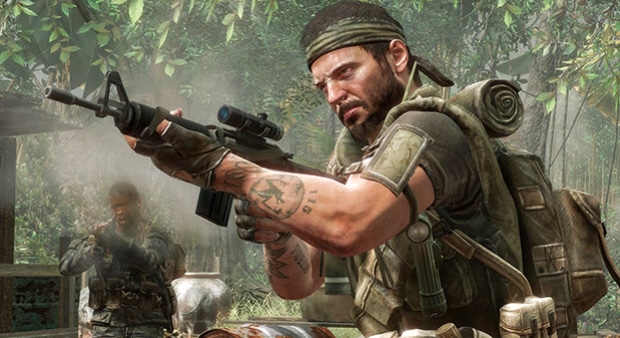 The previous COD Version was Modern Warfare 2 which was criticized for being very short, I hope this one isn't. Anybody else waiting for this game?