Joined

Nov 23, 2009
Runs

9,334
Post of the Week

3
PakPassion
continues to bring its members and guests information on the best upcoming talent in Pakistan, with another in the Talent Spotter Series.
PakPassion
recently caught up with Ali Khan to find out more about him, his hopes for the future and all sorts.
Name
: Ali Khan
Date of Birth
: August 1, 1989
Current Age
: 22 years
Major Teams
: Khan Research Laboratories (KRL), Sialkot Stallions, Pakistan Under 19s.
Batting Style
: Right Hand Batsman
Bowling Style
: Right arm medium-fast
Early Days
- I started playing cricket because of my elder brother, Shahid Khan. He was also a first class cricketer. I started playing street cricket, even then my parents wouldn't allow me to play but my brother saw my potential and started taking me under his wing.
Club Cricket
- I play for a club called CA Cricket Club in Sialkot.
Junior Selections
- Yes I've played the 2006 U19 World Cup, the U19 Asia Cup as well as a couple of home series as well.
Cricketing Heroes
- In those days my first role model was my brother, as he was a cricketer himself. At the international level, my favourite players were Rashid Latif and Ricky Ponting.
Favourite Shot
- The Pull.
Current Favourite Pakistani Player
- Umar Akmal. He's attacking, aggressive and very daring.
Favourite Ground
- Melbourne Cricket Ground (MCG) in Australia.
Most Memorable Performance
- Last year in the semi-final of the One Day National Cup against Karachi. I made 80-odd not out for KRL, and I was also named Best Batsman of the tournament.
Batsman or All-Rounder
- I consider myself an all-rounder, but I get few opportunities to bowl as we have a very bowling good lineup at my department.
Toughest Opponent Faced
- Mohammad Amir gave me a tough time, it was a real challenge to face him and I really enjoyed it.
Interests Outside Cricket
- Nothing at all, it's all about cricket for me. Cricket is my passion, my game, my enjoyment as well as my profession.
Thoughts On Upcoming FBT20
- We (Sialkot) were missing a few players last time - Rana Naved-ul-Hasan, Sarfaraz Ahmed, Qaiser Abbas to name a few - so with their return we will once again have a great combination. I have also focused a lot on it, and hope to deliver Inshallah.
People Who Have Supported Me
- A lot of people helped me along the way. Above all my 2 elder brothers, my coaches and currently our Test cricketer Mohammad Hafeez. He has backed and supported me a lot, he has been an inspiration and I have learnt a lot of things from him.
Future Plans
- I hope to represent Pakistan, the rest is up to the Almighty.
Aamir Sohail's Praise
- I am very grateful to him, he must have seen something that he liked. I am totally focused on my cricket and doing the best I can, the rest is up to the Almighty.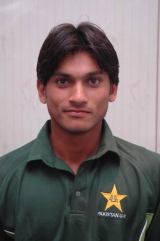 Last edited: