Joined

Dec 24, 2010
Runs

5,140
Bollywood's Shah Rukh Khan, Dilip Kumar and the Peshawar club
By M Ilyas Khan
BBC News, Dhakki, Peshawar
Anybody who knows anything about Bollywood will have heard of Shah Rukh Khan and Dilip Kumar.
What people don't know is that they - and many others - have roots in the Pakistani city of Peshawar, better known these days for militancy and conservatism.
Dhakki is a maze of narrow streets and alleyways, winding up and around a hill that flanks Peshawar's oldest and most famous street, Qissa Khwani - the street of the storytellers.
Within a 200m radius in this area are located the ancestral homes of three of Bollywood's all-time great stars - Shah Rukh Khan, Dilip Kumar and Raj Kapoor.
To get to this area in Dhakki, I duck into a dark, covered passageway on the left of Qissa Khwani street, and walk on to a small open area of ground on the other side.
A labyrinth of streets on the left takes me up the hill to the house of Raj Kapoor, a mega star of the 1950s.
Kapoor's father, Prithviraj, was the first self-confessed Hindu "Pathan" from Peshawar to make a mark in Bollywood as an actor and producer. He started the first Bollywood dynasty whose actors and film-makers today span four generations.
Their three-storey mansion has an elaborate, though crumbling, facade that features arched windows and protruding balconies.
No one lives here any more. But their memory is still alive.
'Gulli-danda' Kapoor
Mohammad Yaqoob, a 90-year-old resident of Dhakki, remembers Raj Kapoor fondly.
"He was my buddy back in the 1920s. He was a year younger than me. We used to play a game of sticks called gulli-danda. We went to the same school," he recalls.
The Kapoors moved to Mumbai in the 1930s, and their occasional visits to Peshawar ended completely after the partition of India in 1947, he says.
About three minutes down the street from the Kapoor's mansion, through a tiny alleyway, lies the rotting home of another Bollywood legend from the 1950s and 1960s, Dilip Kumar.
Described by critics as the ultimate method actor of Indian cinema, Mr Kumar has more gongs than any other Bollywood star. Over his long career, he has won eight Filmfare awards, India's version of the Oscars.
His ancestral house is narrow and shaky, and looks like it's about to fall apart. The facade looks shabby; once expensive woodwork around windows and doors is soiled and cracked, and there are cobwebs all over the place.
Inside, the once trendy partitions of typical Peshawari wood panels are sagging. Plaster has fallen off the ceiling.
The place is being used as a warehouse to store clothes.
A worker at the site, who introduces himself as Maaliar, sounds typically fatalistic.
"It's a matter of pride for those who started from this small place and earned worldwide fame, but as far as I'm concerned, it's a historical place, which is now a warehouse, and I work here."
While Dilip Kumar and Raj Kapoor are legends of the past, some current Bollywood stars can still trace their origins to Peshawar, nearly 66 years after partition.
SRK in Peshawar
Another three minutes down a busy street is the ancestral home of Shah Rukh Khan, or SRK - the biggest and most expensive actor in Bollywood today.
Shah Rukh Khan used to visit his family in Peshawar - and they have been to Mumbai to meet him​
SRK's father, Taj Mohammad Khan, was born and raised here, and SRK himself spent many days and nights here as a teenager when he came visiting on family holidays from his birthplace, Delhi.
His first cousin, Noor Jahan, who lives in the house, has been to Mumbai twice to meet him - the last time in 2010.
"He slept in this very room where we are sitting," she says, recalling the two visits SRK paid to the house in 1978 and 1979.
"He was very happy to be here, because it was the first time he'd met his father's family. In India he only has relatives from his mother's side."
Noor Jahan's 12-year-old son is named after his famous uncle, and calls himself Shah Rukh Khan 2.

"Uncle has promised that if I grow up to be a good cricket player, he'll include me in his team," he says.
SRK owns a cricket franchise, the Kolkata Knight Riders, which represents the city of Calcutta in the Indian Premier League (IPL).
Peshawar boasts several other Bollywood legends, such as Madhubala, the Marilyn Monroe of Indian cinema in the 1950s and 1960s, and the inimitable Amjad Khan - the bad guy of the 1975 Indian classic, Sholay.
Vinod Khanna, who played the lead in several Bollywood films of the 1970s, was born here, and so was Surinder Kapoor, a film producer who started the second Kapoor clan in Bollywood. One of his sons, Anil Kapoor, who acted in Danny Boyle's Oscar winning Slumdog Millionaire, dominated the Indian film scene for a while in the 1980s.
Why Peshawar?
Given this rich heritage, there have been calls for the preservation of known sites associated with these stars.
"[Dilip Kumar's house] should be preserved, so that the people can see what the Peshawaris can do," says Fawad Ishaq, a relative of Dilip Kumar.
But a recent attempt by the provincial government of Khyber Pakhtunkhwa to acquire the house was stalled by an ownership dispute.
Another move to acquire Raj Kapoor's house also had to be put off due to "unavailability of funds, and also because of problems relating to the accessibility and security of the house," says Feryal Ali Gauhar, a conservation expert who has been an adviser to the provincial government.
The question now is, what is it about Peshawar that has led it to produce so many mega stars for Bollywood?
For the man on the street, it's just the beneficence of God.
Local historian Ibrahim Zia has this explanation: "During the silent era, the Indian cinema was dominated by Bengalis and Parsis, but when talkies came, the personality of the actor assumed greater importance, and the people of Peshawar were not only tall and fair skinned by Indian standards, they spoke Hindi with greater flair and style..."
Whatever the reason, Peshawar has a special place in film history. But for the moment, it seems as if those Bollywood roots are destined to fade in the neglected alleyways of this troubled city.
Peshawar: Embattled city of culture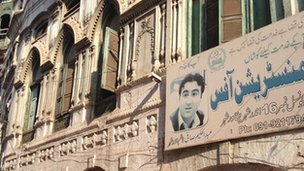 ​
Tasveer Mahal cinema is located a stone's throw from Shah Rukh Khan's house in Peshawar. The Taliban, who consider films as obscene and un-Islamic, have bombed it twice since 2009. A filmgoer outside the cinema says you watch the gates of the auditorium as much as you watch the movie, which is not much fun.
As such, any thought of preserving the city's Bollywood heritage is simply out of tune with the mood of the times. But Peshawar has had a strong tradition of music, poetry and theatre. In 1936, it became one of the first Indian cities to have a radio station. It also had several theatre groups - both professional and amateur, which flourished until as late as the 1980s.
Some of these actors, such as Dilip Kumar, relocated to India because their families had businesses there. Others, especially Hindus like the two Kapoor clans, left because of the partition of India in 1947. Yet others, like SRK's father, stayed on in India because they had been activists of a freedom movement that opposed partition.
Peshawar born, Bollywood bred
Prithviraj Kapoor
(1906 - 1972) Actor-producer founder of the Kapoor dynasty which came to dominate Bollywood
Dilip Kumar
(1922 -)Highly acclaimed Indian actor born in Peshawar, star of many films
Raj Kapoor
(1924-1988)Indian actor and producer, son of Prithviraj, involved in many hits such as Chori Chori and Barsaat
Madhubala
(1933-1969) Actress who shot to fame at the age of 16 starring in the film, Mahal
Prem Nath
(1926-1992) Punjabi actor whose family moved to India after partition and made his film debut in 1948
Vinod Khanna
(1946-) Popular and successful actor, particularly in the 1970s and 1980s. Two of his sons have also gone into the film industry.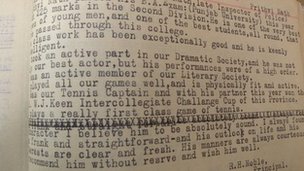 Documents from Peshawar still exist as testament to the Bollywood greats who were born in the city​
Source:
http://www.bbc.co.uk/news/world-asia-20440607#TWEET402869