19-year-old fast bowler Usman Khan Shinwari recently hit the headlines after a breathtaking display of swing bowling in the final of the Faysal Bank T20 Cup for Departments, in which he picked up 5 wickets for just 9 runs to help ZTBL lift the trophy.

Having made his domestic debut this season, the left-armer has participated in three first class matches, three List A matches and 11 Twenty20s, and it's in the shortest format that Shinwari has made the most significant impact, taking 16 wickets at 16.37. His skill with the ball has resulted in ZTBL coach and former Pakistan international Wajahatullah Wasti comparing his ability with that of Mohammad Amir and Wasti has urged selectors to pick Shinwari for next years ICC World T20. He picked up the wicket of Misbah-ul-Haq in the final of the T20 Cup for Departments, and impressing the Pakistan Test and ODI captain could boost his chances given Pakistan's penchant for introducing young fast bowlers to international cricket early in their career.

Hailing from Landi Kotal in the FATA area of Pakistan, Shinwari has always played his club cricket for FATA region and whilst he is still a novice in the highest level of domestic cricket, his performances have already drawn praise from many who have witnessed him bowl.

Speaking exclusively to PakPassion.net, Shinwari talked about his development as a cricketer, his move to ZTBL, the Ramadan T20 Cup, recent success at the Faysal Bank T20 Cup for Departments and his aspirations for the future.

PakPassion.net:

How did you find your way into cricket?

Usman Khan Shinwari :

My cricketing journey is one that began in the local streets where I was born and bred. This was in the town of Landi Kotal which is part of Khyber Agency [FATA region]. Like many other youngsters in Pakistan I would just play cricket for fun in the streets with my friends or in the local parks at every opportunity. The matches were very crowded with the batsmen facing up to 50 plus fielders at times, so you had to place the ball well to pierce the field in that cricket. It was chaotic but great fun.

PakPassion.net:

Do you have any family members who have played or currently play first-class cricket?

Usman Khan Shinwari :

No I am the first from my family to make it to first-class cricket and that has been a very proud achievement for me and my family. It's also been a steep learning curve and I have had some great support already from coaches and team mates alike as well as from my family.

PakPassion.net:

How did you progress from playing cricket in the local streets and parks to eventually playing for ZTBL?

Usman Khan Shinwari :

I made the decision after speaking with my father to join the Peshawar based Islamia Cricket Academy (ICA) which had coaches such as Wajahatullah Wasti and Qazi Shafiq Lala working there. My father really showed me a lot of support and without his support I would not be here today playing first-class cricket.

The ICA academy was where all of the local boys in my local area wanted to end up in order to improve their cricket skills and I was lucky enough to be given a place at the academy. I learnt the basics of cricket at ICA in a very competitive environment where you have to really stand out to get noticed.

PakPassion.net:

So after finding a place at the ICA cricket academy, what happened next?

Usman Khan Shinwari :

From the ICA academy I was selected for the FATA district before moving onto Abbottabad region Under-19s. The coaches at Abbottabad region gave me the opportunity to play on a regular basis for their Under-19 side and I will forever be grateful to them for their efforts. I topped the bowling records in my first season at Abbottabad two years ago.

PakPassion.net:

So by Pakistani standards you were late in blossoming in district and regional Under 19 cricket?

Usman Khan Shinwari :

Yes I only really started playing for the district and region from the age of seventeen which is when I started to take my cricket more seriously I suppose. Before that it was mainly club cricket. This is my third season as a full time cricketer and things have progressed very quickly which is something I am pleased about.

PakPassion.net:

Your region is producing some excellent cricketers at the moment. Is there something special in the water?

Usman Khan Shinwari :

(laughs). No there's nothing special in the water, just a real hunger and desire to play cricket at the highest level and to play for Pakistan. People are cricket mad in FATA and Khyber Pakhtunkhwa regions. Everywhere you go people are either playing cricket, watching cricket or talking about cricket.

What is important to mention though is that if there was more investment and better facilities the regions would produce even more first-class and international cricketers. People are playing cricket in very difficult conditions in those regions and the facilities are, unfortunately, below standard. I can only imagine the type of improvement we will see, if the facilities were better and some money pumped into cricket in these regions.

PakPassion.net:

You seemed to have escaped the notice of the national Under-19 selectors?

Usman Khan Shinwari :

I was called up to a training camp in Lahore for one of the Under-19 world cup tournaments and made one of the squads but I never really flourished for Pakistan Under-19s. There's a lot of competition and unfortunately I never made the grade at that level. However I guess it's now that I need to make up for lost time.

PakPassion.net:

You actually signed for KRL didn't you before you ended up at your current department team ZTBL?

Usman Khan Shinwari :

Yes I played for KRL Under-19s for one season. I took 36 wickets and finished top of the averages, then when I was over-age for the Under-19s, I played a few matches for the senior KRL team.

PakPassion.net:

Why the sudden move from KRL to ZTBL?

Usman Khan Shinwari :

The KRL batsman Ali Naqvi spotted me when I was at the ICA academy and asked me to sign for KRL. I had no hesitation to sign for a big department like KRL but then ZTBL coach and former Pakistan batsman Wajahutallah Wasti spoke with Ali Naqvi about a possible move to ZTBL. At the end of the day I just wanted to play first-class cricket and I didn't mind which team I played for, but opted to agree with both Naqvi and Wasti and signed for ZTBL.

PakPassion.net:

You first caught the eye of the public during the Moin Khan Ramadan tournament earlier this year. Tell us about that tournament and how things changed for you after that tournament?

Usman Khan Shinwari :

Yes absolutely, that tournament really did make a lot of difference for me. I was on the fringes of the ZTBL squad but after that tournament I was called up to the ZTBL squad and haven't looked back since. I have played regularly for ZTBL ever since my performances at the Ramadan Cup. They've picked me in all formats this season and it has been wonderful to be given that opportunity and a continued run in the side.

PakPassion.net:

Who are your cricketing heroes and role models?

Usman Khan Shinwari :

That's an easy question. Wasim Akram is my hero. He's the best left arm bowler ever and I hope to receive some coaching from him one day. He was a fantastic bowler and I look forward to the day when I get the chance to meet him and talk to him about bowling and to get some advice from him.

PakPassion.net:

Which is your stock delivery?

Usman Khan Shinwari :

The outswinger to the right handed batsman is my stock delivery but I'm working on other deliveries too. I think at my age, it's very rare that you are the finished article as a bowler so I have lots to learn and work on and I'm confident that I can develop my bowling so that I have the inswinger and the outswinger in my armoury as well as some more tricks.

PakPassion.net:

A few people are suggesting that you may prefer to play for Afghanistan over Pakistan?

Usman Khan Shinwari :

My dream is to play for Pakistan and no other nation.

PakPassion.net:

You were part of the successful ZTBL squad that recently lifted the Faysal Bank T20 Cup for Departments, explain how it felt to win that tournament?

Usman Khan Shinwari :

Firstly I think it's important to acknowledge the efforts of the Pakistan Cricket Board for organising the tournament and giving cricketers the chance to show their talent live on television. It was good to see the crowds turn up particularly for the semi finals and final.

To just take part in the tournament was an achievement for me but then to be part of an unbeaten team that went on to win the competition was just unbelievable. I really enjoyed taking part in the tournament, it has definitely helped with my development as a cricketer and it was good to play alongside and against current and former international cricketers.

PakPassion.net

: Speaking of international cricketers, how was it to look across your changing room and see Saeed Ajmal in the same colours?

Usman Khan Shinwari

: It was surreal. A few days earlier I had been watching him on television in South Africa and the next thing I know is that he is sat near me playing for the same team. We had a strong team going into the tournament with many former and current international cricketers and a nice blend of youth and experience and to have Saeed Ajmal available towards the end of the tournament really boosted the morale of the boys at ZTBL.

I particularly also want to mention the ZTBL skipper Imran Nazir for his support and guidance. He really helped me throughout the T20 Cup for Departments and he really made me feel welcome in the dressing room. It was nice being part of a dressing room where you didn't feel like you were the new kid on the block amongst many household names.

PakPassion.net

: Did you ever imagine that you would take five wickets in the final of the Faysal Bank T20 Cup for Departments ?

Usman Khan Shinwari

: Absolutely not. You always want to do well especially when the match is on television and you know that your friends and family will be watching. But not in my wildest dreams did I expect to take five wickets. It was one of those unforgettable days when everything clicked in place and luck was on my side. Hopefully I'll have many more days in future like the day of the final.

PakPassion.net

: Not a good idea though to dismiss the current ODI and Test captain for a duck?

Usman Khan Shinwari

: (laughs) It was one of those things, I just put the ball in the right place and he nicked it. I was bowling with good rhythm and when you are in the zone then anything is possible. To dismiss one of Pakistan's top batsmen and the current Test and One Day International captain was just brilliant. I do hope though, that he forgives me when it comes to future selection.

PakPassion.net

: So what now for Usman Khan Shinwari, what's the plan, what happens next?

Usman Khan Shinwari

: There's lots of domestic cricket taking place at the moment. A four day competition as well as the one day tournament so there is plenty of cricket to keep me busy. International cricket is my aim, I just need to keep impressing, keep performing and keep taking wickets and bowling well.

I want to learn, I'm keen to improve and I want to become a complete bowler and for that to happen I need to learn my trade in domestic cricket. It's my first full season and things are going well, but it's a case of carrying on with the good work and developing my all round game.

In Pakistan you can get called up to international cricket despite having only played a few domestic matches. We've seen that happen in the past so many times and boys become household names literally overnight.

Some will say that I need more first class matches before international selection but I know that even at this stage if I am picked for Pakistan I won't let anyone down and feel that I am ready for the challenge. Yes I am raw, but sometimes that can be a good thing as you just play your natural game without any inhibition.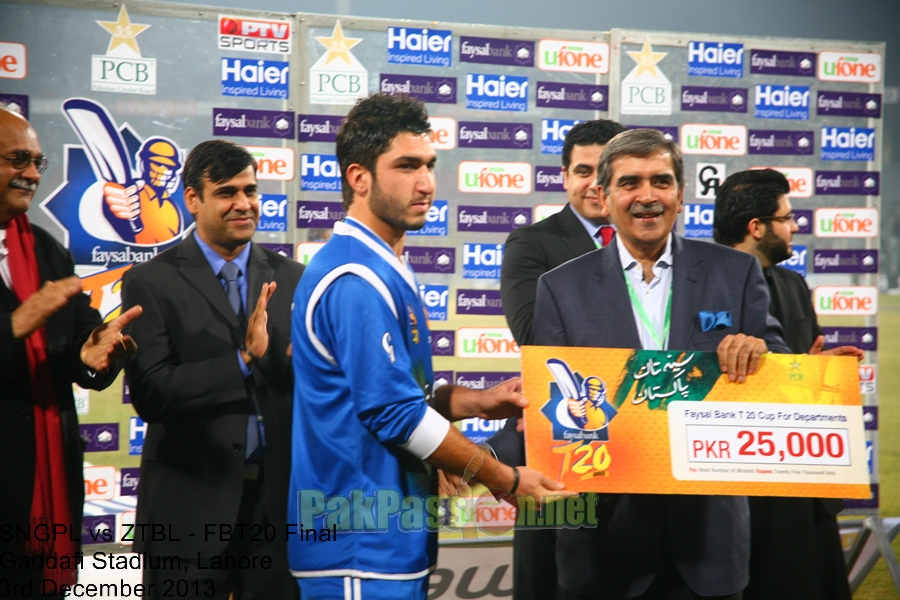 Last edited by a moderator: